PRESS RELEASE – April 12, 2020
Conceptions M.G. Inc. provides solutions to the shortage of medical equipment.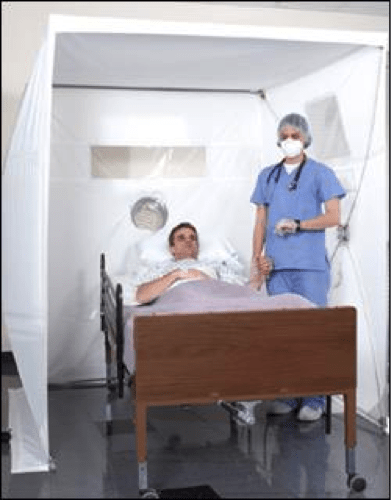 In connection with the COVID 19 crisis, Conceptions M.G. Inc. is currently receiving requests from hospitals seeking to obtain modular confinement chambers and negative pressure machines. This equipment is unfortunately out of stock at the manufacturers, and this for several months.
With its recognized expertise in the medical field, Conceptions MG Inc. puts its shoulder to the wheel and participates in the collective effort by offering a new containment equipment kit, the CONFIN 100, in addition to alternatives dedicated to alleviate this shortage of medical equipment. Here are our solutions:
CONFIN 100 confinement kit:
Modular confinement chamber – with facades that can be closed.
It is a flexible, inexpensive and practical way to quickly increase the confinement capacity, within seconds, of a patient who could be admitted.
Fits almost all beds and stretchers – variable dimensions.
Technical characteristics:
Use of a Rip Proof Poly Sheeting Fire Resistant High density 10′ x 100′ Roll White.
Approved FR Rating CAN/ULC-S-109 FR which goes up to the ceiling;
Creation of negative pressure using boxes with HEPA filters that we manufacture locally;
Possibility of generating 8 to 12 air changes per hour for a space of 700 to 1000 cu. ft.
The CONFIN 100 containment kit includes:
2 zippers
4 extendable poles with adhesive ends (12'6'')
1 roll of Rip Proof Poly Sheeting (100' x 10')
1 roll of white tape
1 storage bag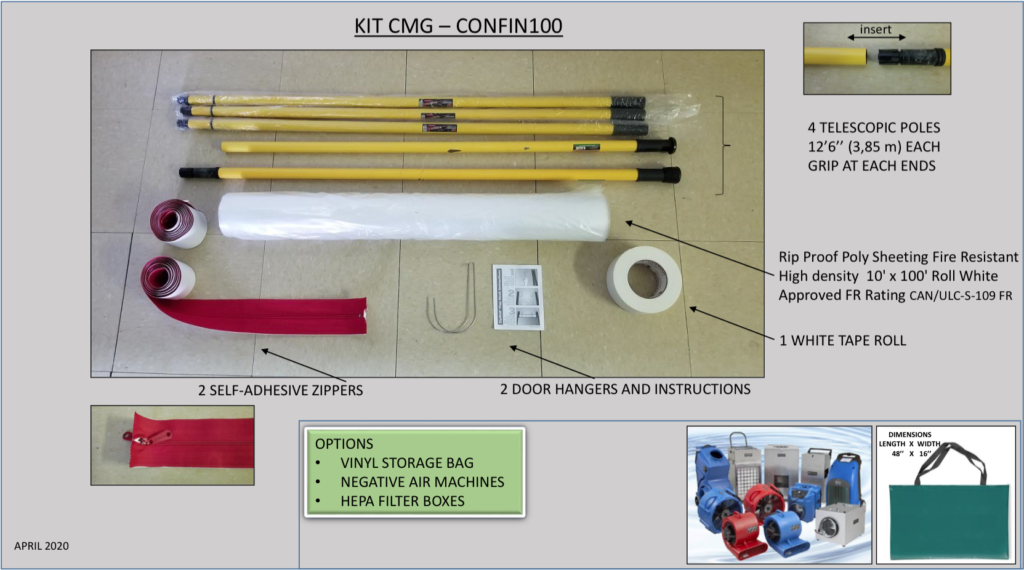 Negative pressure machines:
Please refer to the machines usually offered – currently out of stock.
Negative pressure Hepa units:
For patient containment, we can also offer negative pressure units that we produce locally – see figure 2.
Available in stock;
We are currently producing these units;
Our units are supplied with or without a battery, like the one illustrated here.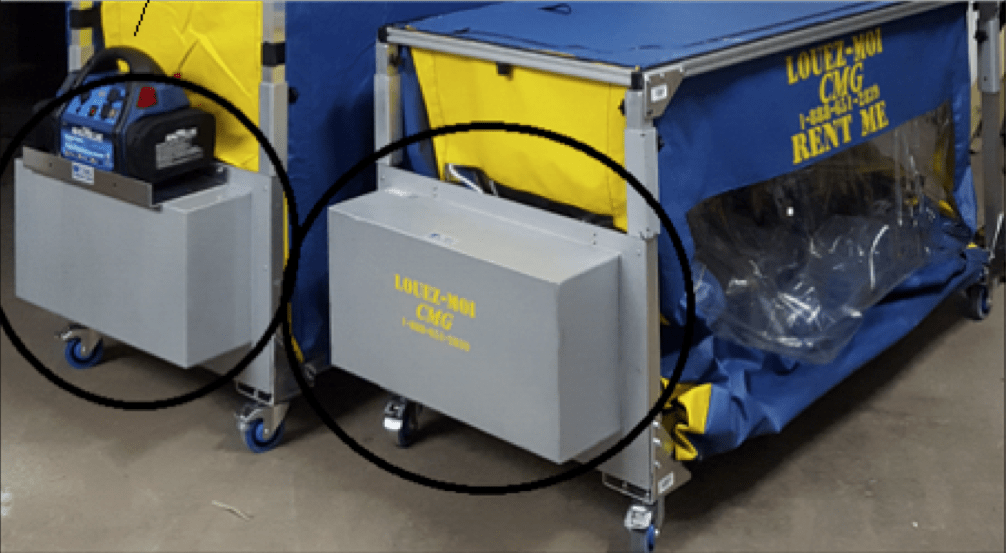 If necessary, the following points should be determined:
Modification to the current design (CFM capacity required, dimensions, etc.)
Rental or purchase
Adaptability of the establishment's existing confinements
Possibility of adding wheels to the units
Others, to be specified
For any questions do not hesitate to contact me on my cell phone at (514) 953-7480, or at the office at 1 888 651-2839.
With Best Regards
Michel Gagnon. President